THE CHILDBLOOM GUITAR PROGRAM OF BOISE
GUITAR LESSONS FOR KIDS - THE CHILDBLOOM DIFFERENCE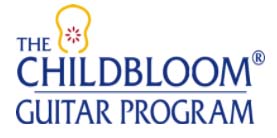 Are you looking for a fun, yet challenging guitar program for your child? The Childbloom Guitar Program teaches life-long fundamental music skills in a positive and low pressure environment.
A child's early experiences with music can help shape his or her approach to future challenges and opportunities. The Childbloom program encourages development of diligent practice habits, listening skills, persistence and team work through ensemble playing.
We take music education seriously. Begun in 1980, the Childbloom Program is one of the longest running guitar programs for children in the world. That is why we know that parents must be involved in their child's musical growth. We want a parent to be present in the lesson with the child. You need to know the details of what the child is learning, the goals for the week, the technical aspects that the child can't see from his or her viewpoint and help encourage practice in an effective way. The quality of that involvement will change as the child matures but parental involvement has been a key ingredient to the success of the students in our program from age 5 -18. This is the the highest cost – YOUR time and attention. It will provide the greatest value to your child.
The Curriculum
The Childbloom Guitar Program is a comprehensive music education program developed in 1980 by Kevin Taylor, of Southwestern University in Georgetown, Texas. It is currently being used by educators around the country and is the largest program of its kind in the United States. Incorporating a well developed, innovative approach in a positive, low-pressure environment, we help build the foundation for a lifetime of confident involvement in music and the arts.
Through a researched and proven method, students are able to play music quickly and successfully. "We want to give the kids a learning victory in the first few lessons," says Taylor. "They don't want to wait to play music. Can you blame them?"
The Childbloom curriculum and group structure allows the student to gain both solo and ensemble skills. The curriculum has been carefully developed, employing an understanding of the science of modern child development. Traditional classical guitar technique is taught, using the fingers of the right hand rather than a pick.
Much of the music is arranged in multiple parts, necessitating that the students learn listening and blending skills, and confident independence. We prepare students to continue in classical education as their skills progress, or use their reading and ensemble skills to branch out confidently to play other styles of music. Public performances are encouraged, though not required.
STUDENTS
CHARLES I.
One of the very nice things about the Childbloom Program is that there are frequently contests that the kids can participate in. Kevin Taylor, the founder of the program, tells them what they need to play. The kids work hard and record their piece and then send it off to him. He judges and declares the winners, who receive a letter from him and a check for their prize! How fantastic is that? The contests are open to all the Childbloom students in the U.S.
Charles won the recent, First Year Contest and I am very proud of him. He played a short melody, La Folia, two times in a row. Mr Taylor's comment was that his "tempo, rhythm and technique were fantastic!" Quite a compliment from the founder!
Here is my short interview with Charles:
Tell us why you chose guitar.
I have played piano since second grade, but I have wanted to play guitar since I was a little kid (Charles is now 12). I worked hard and progressed and showed my parents that I could handle 2 instruments.
Two instruments is quite a discipline! What do you like best about guitar?
I love the sound and the feel of it under my fingers. I love the music that can be played. Strumming chords is very important, but I like the classical: The tunes are crisper.
What are your hopes for guitar?
I want to become proficient and to be a teacher of kids in the future.
What are some of your other interests?
I crochet. I make many things, but the thing I am dedicated to is Amigurmi ( making little animals). I also love creative writing. Mostly, I do stories about talking animals, or fantasy.
What would you like others to know about you?
I enjoy all things artistic. I think if I could go to art school for college, that what I would do!
Congratulations to Charles! I believe he can do anything he wants!
JAMES and JANIE
This older brother-little sister duo is quite the bomb! They are working their way through the curriculum very quickly and gracefully. We have hit only a few bumps along the way, but for the most part, they are very fast learners and cool, fun kids!
They have made their way to this post because they both won the national Childbloom Christmas Contest in their age groups. Each won $25 and they received a letter from the president, Kevin Taylor, telling them what he liked about their playing. He congratulated Janie on her good tone and James on his good timing. You can hear their pieces in the audio section of this website.
What Janie likes most about guitar is the fun pieces. Kind of Blue is her favorite. She doesn't mind practicing and she thinks she will enter some more contests. She also plays soccer and enjoys playing the piano, too, which is about as fun as guitar to her.
James thought the process of recording his pieces was challenging, but worth the effort. He likes playing for his grandparents and his favorite tune is also Kind of Blue. James also enjoys being out on the soccer field.
These great kids are getting ready to head out on an adventure. They are going to spend the summer visiting campsites and parks in the western US, and then, they are off traveling for about a year in an RV to see the national parks. You can bet I will miss them, but what a great opportunity!
Thanks, James and Janie!
CODY L.
I would like to take this opportunity to give accolades to Cody L. for his accomplishments. Cody recently completed the Level Promotion process. This program was developed as an adjudication process, whereby each student is evaluated with regard to technique, ability and general knowledge before moving to the next level of curriculum. There is a total of 4 tests.
Because of Cody's progress and his diligence, he was invited to play as a junior member of La Bella Corda, the advanced ensemble. He participated in the performances in December and will be playing again with the group this spring.
Here is a short interview with Cody:
"You have come a long way, Cody! How do you feel about your accomplishments?"
"Well, my mind can be put to ease because I finally accomplished what I set out to do: complete all the level promotions. My goal was to finish so I could earn a trophy. But, don't worry, I'm not going to quit!"
"I am glad to hear that! Do you remember why you wanted to play guitar in the first place?"
"My brother played an instrument and I wanted to learn one, too."
"Was there ever a time when you wanted to quit?"
"Actually, there was. Practice was just another thing I had to do before I could have fun. It was a chore."
"I'm glad you hung in there! Does playing guitar serve a purpose for you?"
"It's just fun! Learning new solos is the most fun thing about guitar."
"What do you like best about guitar?"
"Well, I have a really fun teacher! Also, music is like learning a whole new language."
"Do you have any advice for anyone who may read this?"
"Persevere through it, even if you want to quit. It's worth it in the end. Learning to play an instrument is a skill to be valued and not taken for granted."
"A sincere thanks and congrats are extended to you, Cody. You are a great student!"
CHOOSING THE RIGHT INSTRUMENT
It is so very important that your child have an appropriate guitar on which to learn. Please call us for recommendations (375-9768) before you purchase one. We are not in the business of selling instruments (though we sometimes consign used instruments for our clients who are moving up to larger ones.) So, we can give you an unbiased view of the marketplace. We try to keep abreast of what the good instruments are and where you can get them close to you. Childbloom has been in this business for over 30 years and know that kids learn best on an instrument that fits them. Consult with us before you buy. Its a free service!
Young children will outgrow their instrument. You should plan on getting a new one every two to three years until the child can use a full-sized instrument – usually around age 12. But an old instrument can be be sold as used. The market price (at least in Boise) for a used one is about 50-75% of the full retail value of a new one depending on the condition of the instrument.
The best brands of guitars in Boise area are: Cordoba (3 fractionally sized) and Yamaha (2 fractionally sized). They are all nylon-string instruments, which is what we strongly recommend for the high-skill technique that we teach the children. Don't know which to buy? Contact us.
STUDIO POLICIES AND PRICING
POLICIES
Tuition is computed on a 42 week yearly schedule. Some months will have 3 lessons, some will have 4 and some may have 5. A monthly calendar showing the schedule of classes will be provided.
Tuition is due on the first lesson of the month.
Students must pay the full monthly tuition regardless of any classes they miss. If the student misses a class due to a conflict, the tuition will not be prorated. In the event of an emergency or illness we will try to schedule a makeup lesson.
A 2 week notice is required if you're going to withdraw from the program.
PRICING
There is a $30 enrollment fee per family into the Boise Childbloom Program. When you enroll we give you 2 things: the initial enrollment materials, which includes a CD of the music, lessons, exercises that the student will be learning. This material provides a key ingredient to the Childbloom success – listening to the music before, during and after learning it. We also provide easy-to-read music for the non-musician parent to help at home. You also receive a subscription to The Childbloom Monthly Newsletter. This helps parents deal with the many ups and downs of motivation that will occur in the musical education process. The newsletter also has local events and contests your child can participate in. Contests are geared to every skill level.
Tuition is $70/month for a small group setting (2 to 4 students). A private setting is $90/month. Siblings take at 1/2 price, making it one of the most affordable music education programs in the area. We are also the best!
AUDIO/VIDEO
Here are some videos of Childbloom students.
Click on the play button to view them.
Here are some audio recordings of Childbloom students.
Click on the play button to listen to them.
Berceuse - Boise La Bella Corda
El Cachimbo - Boise La Bella Corda
Faz Hoje um Ano - Boise La Bella Corda
Hiding behind the Waterfall - Boise La Bella Corda
Avalon plays "The Answer"" by Kevin Taylor -
2016 Christmas Contest Winners
James plays "Go Tell it on the Mountain"
Janie play "Oh Come, Oh Come, Emmanuel"